Karen Anderson, Attorney at Law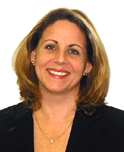 Karen graduated from the University of Nebraska at Lincoln and received her law degree from Creighton University in Omaha.
Focusing on family law, Karen worked for the State of Nebraska as Child Support Prosecutor and for the Nebraska Department of Social Services in the areas of child abuse, neglect and delinquency. During this time, Karen was president of the legislative committee and chair of the Nebraska Child Support Enforcement Association.
Following her success in child support, she took the position of Senior Staff Attorney for the nation's largest private child support enforcement corporation located in Austin, Texas. She has made numerous presentations for the National Child Support Enforcement Association (NCSEA), conducted a variety of training sessions throughout the country concerning all aspects of child support law, and hosted a national radio call-in show where she answered child support questions from listeners.
In 2003 she moved to Illinois to establish her own law firm. Karen continues to practice in the areas of family law including divorce, child support, child custody and visitation, and paternity. She handles personal injury cases and other types of civil cases as well.
In 2018 she started Illinois Divorce Online as a convenient, low cost way to obtain a divorce.
She belongs to the Illinois, Nebraska and Texas Bar Associations.